The local Florentine ARI Section presents:

Florence HamFest – 6th April 2013
9.00 AM – 6.00 PM Free Entrance
International HamRadio Convention and Flea Market dedicated to Amateur Radio enthusiasts  including Antique Radio, Boathancors, military and surplus.
This will be the 3rd edition of the exposition and like the last year it will be held in Spazio Reale, a local exposition and convention site, that offer along to a large parking, a 1000 meter Square Auditorium, a Bar Restaurant and Pizzeria that will offer typical Italian food, from early morning to late night a meeting room with 120 seats, and also Hotel Rooms everything in a single location.
International visitors and expositors have been present the past editions and are welcome to join the HamFest this year as well.
Along to the exposition, inside the auditorium will be present:
At present the following organizations and communities confirmed their presence:
DX Peditions movies :
International Contest Prize-Giving
Convention Schedule

10.00 – 10.30 –  Prize Giving Maratona 50 Mhz
Auditorium     by: Gabriele IZ5HQB
10.30 – 11.00 –  Prize Giving Contest italia 28Mhz
Auditorium  by   Mediterraneo DX Club
11.00-11.15   – Introduction to Convention
Sala Girasole  Simone IW5EDI e Luca I5IHE
11:15 – 12:00  1A0C – SMOM
Sala Girasole  By: Giorgio IZ4AKS  DXCoffee.com
12:00 – 12.45  V84SMD- Brunei 2012 DXpedition
Sala Girasole  by: Antonio IZ8CCW Mediterraneo DX Club
13.00 Lunch break

14.00 – 14.30  ARI-RE
Sala Girasole  – by Stefano IW5DPF
14:30 – 15:15 HamTV – A proposal by Amsat-Italia for Columbus Module
Sala Girasole by  Fabio IZ5XRC
15:15 – 16:00 Build a  4 square system antenna for low band dxing
Sala Girasole  by: Silvio IZ5DIY
16:00 – 16:45   –  TT8TT Chad 2012
Sala Girasole   by : Italian DX Team
17.00 – 17.30  Prize Giving  Homebrewing Contest
Auditorium – by Luca I5IHE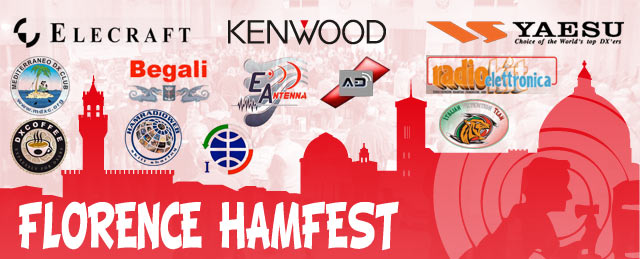 Brands that will be presented:   Kenwood, Yaesu , Elecraft , Antenna Dinamica, EAntenna , Begali
Thanks to local dealers,  the full Kenwood Yaesu and Elecraft line will be presented at the Florence HamFest.
Latest RTX Kenwood TS-990S and Yaesu FT-DX3000 will be presented by local dealers and will be possible to test them thanks to the antenna systems that our staff will setup.

How to reach the Florence HamFest.
Florence HamFest can be easily reached from the A1 Motorway – Scandicci or Firenze Nord exits.
If you arrive to Florence Airport, you can easily take a taxi and reach Spazio Reale in a few minutes.
If you arrive from Pisa Airport, it may make sense to take the Train to Florence SMN, and than a Taxi to Spazio Reale.
For more detailed directions, have a look into the Spazio Reale WebSite.
If you came by car, you can have a look ot our custom Driving Directions page
where you can watch a movie, and download maps and parking inromation.
Hotel Special –  We are currently arranging special rates with hotels in the area. If you are interested keep in touch with us.

More Information:
If you need more information or want to reserve a table in the Flea Market
Write to : info.mercatino@arifirenze.it
Promotional Material – free to use
Download PDF Square Version : FlorenceHamFest2013Quadratov2 PDF
Download PDF A4 Format  FlorenceHamFest2013ENG-v2