Primo classificato SOLP - edizione 2012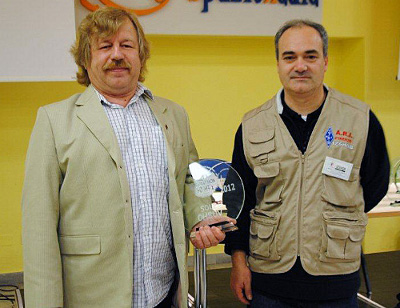 OH8UV Markku
Elenco call 2013 / List call 2013
I0YLI
I4JEE
IK2FTB
IK3TPP
IK4GTC
IK4ISR
IK5GQK
IK5PWB
IS0AWZ
IS0BSR
IV3APH
IV3IXN
IV3KKW
IW0FFK
IW0HLE
IW0HQG
IW2NNZ
IW3INQ
IW4AOT
IW5EIJ
IY4FGM/4
IZ0INX
IZ0IWC
IZ0KXT
IZ0MJE
IZ1MLS
IZ4FUA
IZ5BAM
IZ5HQB
IZ5IMA
IZ5XGQ
OH3DP
OH8UV
SV1EEX
SV2CXW
4° Maratona 50MHz
La Sezione ARI Firenze organizza la maratona dedicata alla banda dei 50 MHz a cui possono partecipare tutti i radioamatori. Da questa pagina č possibile accedere al proprio log on-line per la gestione della maratona, per l'accesso basta richiedere la relativa userID personale e la password inviando una e-mail, all'indirizzo maratona50mhz @ gmail.com, contenente i seguenti dati: CALL, Nome dell'operatore, WWLocator e la Categoria di partecipazione.
Il log on-line č giā attivo per permettere di eseguire delle prove da parte degli utenti registrati, poi prima dell'inizio della maratona verrā azzerato di tutti i qso contenuti tranne gli utenti.
ARI Section of Florence organizes the marathon dedicated to the band of 50 MHz which is open all radio amateurs. From this page you can access your online logs for the management of the marathon. To Join, request your personal userID and password by sending an e-mail to maratona50mhz @ gmail.com containing the following data : CALL, Operator Name, WWLocator and the category of participation.
The log function is already working, in order to allow users to test it, but log entries will be cleared at the beginning of the marathon.
Contest Manager
IZ5HQB
News 70 MHz
In occasione della rinnovata sperimentazione sulla banda dei 70 MHz la Sezione di Firenze ha inserito nella Maratona 50 MHz edizione 2013,un sezione dedicata a questa banda. L'iniziativa č volta alla acquisizione dei collegamenti effettuati dai radioamatori italiani e non nel periodo di svolgimento della maratona. Al termine il database creato verrā trasmesso al team del Dipartimento di Ingegneria Elettrica e dell'Informazione dell'Universita dell'Aquila, diretto da Piero Tognolatti I0KPT per le successive analisi sulla propagazione.
Tutti coloro che vorranno partecipare a tale iniziativa dovranno inviare una e-mail contenete il CALL, il NOME, il LOCATORE, ed una descrizione delle proprie apparecchiature all'indirizzo maratona50mhz @ gmail . com.
With the introduction of the sperimental period of the 70 Mhz band, ARI sezione di Firenze, created a special section dedicated to this band, inside the the 50Mhz Marathon 2013 edition. The main goal is to collect data of all QSOs done within this band by all radioamateurs taking part to the competition. The final database of QSOs made on the 4 meter band will be collected and sent to the Department of Electrical and Information Engineering of the University of L'Aquila, directed by Piero Tognolatti I0KPT, for further analysis on propagation.
All those who wish to participate in this initiative, should send an e-mail containing the CALL, NAME, the LOCATOR, and a description of their equipment at maratona50mhz @ gmail . com.
Contest Manager
IZ5HQB